Sustainability
At Curtis | Law PC, we know that being an efficient and profitable business and being a good steward of the environment are goals that can work together. Our sustainability goals are economic, social, and environmental.
Economic:
Economic productivity
Local economic development
Resource efficiency
Affordability
Operational efficiency
Social:
Equity / Fairness
Human safety, security and health
Community development
Cultural heritage preservation
Environmental:
Climate change prevention and mitigation
Air, noise and water pollution prevention
Non-renewable resource conservation
Openspace preservation
Biodiversity protection
We promote these goals through Firm-wide economic initiatives such as streamlining our services to be the most efficient for our employees and our clients. We promote social equality and encourage our employees to actively participate in community service and recognize our employees' cultural heritage through encouraging memberships with cultural groups such as the Native American and Hispanic Chambers of Commerce. We protect the environment through initiatives like "going paperless", actively recycling, and dedicating time and resources to organizations that assist the environment.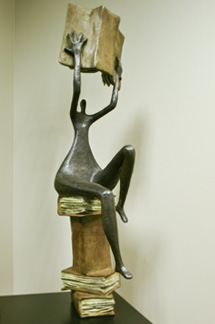 Accumulation of Knowledge
Artist: Tolla
Cast Bronze