Curtis | Law PC - Corporate Practice
General Business Practice
Curtis | Law PC's corporate practice encompasses a broad spectrum of complex commercial law issues in the areas of contracts, real estate, landlord/tenant, healthcare, employment and non-compete agreements, banking, lending, securities, structured finance, energy, trade secrets, professional liability, consumer rights, intellectual property, insurance, bonding and suretyship. Our corporate representations include individuals and business entities in a variety of industries such as banking, secured lending, subprime lending, mortgage companies, venture capitalists, securities brokers, healthcare providers, manufacturers, distributors, transportation companies, retail and wholesale operations, professional service providers, restaurants, food, drug and beverage suppliers, entertainment groups, technology service providers and computer companies, energy providers and utilities, finance companies, insurance companies and various real estate related ventures.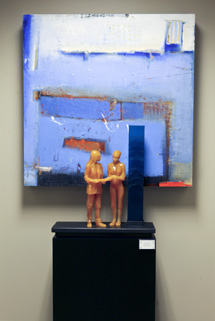 Tete-a-Tete Artist: Lucy Lyon Cast Glass and Steel
Business Succession Planning
Curtis | Law PC's Business Succession Planning attorneys assist their clients in establishing a plan to ensure their business' continuation and help to maximize the return for the founders of the business. Business succession planning is an investment in the future of the business for the owners, employees, and clients. Planning is the key to future success for everyone whose efforts have helped grow the business. The existence of a succession plan emphasizes commitment to long-term growth and creates confidence with customers, lenders, employees, and key suppliers. The Firm maintains close working relationships with highly skilled financial planners, accountants, and bankers dedicated to assisting our clients in reaching their retirement goals.
Corporate Compliance
Curtis | Law PC has expertise in assisting organizations which are governed by federal law, and as such, are under federal scrutiny for violations of applicable civil and federal law. Organizations which come under federal scrutiny face potentially staggering fines and penalties, as well as the prospect of "corporate probation". A corporation's officers and directors may be exposed to criminal liability. Federal guidelines give organizations the incentive to police themselves by developing an effective corporate compliance program. The Firm helps organizations to understand the federal criteria and implement corporate compliance. We assist clients in a broad range of management issues by providing investigative and consulting services as they relate to today's complex regulatory environment.
Corporate Governance
Curtis | Law PC has experience in advising independent directors, executive officers, controlling stockholders, stockholder groups and other constituencies on governance issues. We advise directors, senior managers, boards, and officers in a wide array of corporate governance issues including assisting clients in proper due diligence, incorporation and negotiation, proper preparation of board minutes, proper termination procedures, executive compensation policies, and creating operating and self-evaluation protocols. Our corporate governance team also works to protect directors and officers against personal liability.
Employment Law and Benefits
Curtis | Law PC attorneys have extensive experience in providing human resources consulting to various sized clients across a variety of industries. Several of our attorneys are active members in the Society of Human Resource Management, which provides cutting edge information on issues related to human resources.
Aside from ensuring compliance with law, the Firm has also focused on assisting organizations with improving corporate infrastructure to avoid employment problems before they emerge. This is done through the drafting of concrete legal documents from corporate formation through the hiring and termination processes. Additionally, the Firm provides human resources defense consulting to entities needing assistance responding to emergency employee and benefit needs.
The Firm's lawyers also have experience handling litigation related to employment issues including the enforcement of covenants not to compete, safeguarding trade secrets and defending claims of discrimination.
General Counsel
Curtis | Law PC's general counsel practice is supported by cutting edge technology maintained and supported within the Firm. As general counsel to clients, the Firm works efficiently to assist start-ups, small businesses or mid-size companies to develop and advance sustainability projects, succession plans, and to protect clients' interests in all facets of general business matters and transactions.
Read More
Recent general counsel roles include:
Representation of large national catastrophic relief Firm including counseling on submission and analyzing multiple requests for proposals, requests for qualifications, and requests for bid for large insurance contracts; defending client on all aspects of employment law, including human resources defense and tax negotiation; lease negotiation; operating agreements; draft and review loan documents, and corporate formation documents.
Representation of turnaround managers, members of Boards of Directors, interim Chief Financial Officers, Chief Executive Officers, and Chief Restructuring Officers regarding corporate reorganizations and insolvency matters.
Representation of multistate company assisting claimants in recovering funds from the BP oil spill including: drafting operating agreements, preparing corporate documents, and counseling on effective cost savings strategies for Firm start-up.
Provide advice and analysis regarding a number of infrastructure projects including bridges, airports, building projects, electrical distribution and transmission lines, natural gas production, telecommunications, pipe bursting, and other utilities.
Review vendor contracts, employee benefit contracts, partnership agreements, severance agreements, and compensation policies.
Qualify clients locally and nationally for DBE, MBE, WBE, SBE, and SBA business certifications.
Real Estate
Curtis | Law PC has extensive experience representing clients engaged in every facet of buying, selling, developing, operating, leasing, capitalizing and financing real estate for operators, investors, developers, and end-users in office building, apartment and condominium development, industrial projects, land development projects, and the purchase and sale of unimproved and improved property.
Read More
Recent dealings with real estate include:
Representation of Dallas' oldest commercial real estate institution in complex litigation and business conflict; instrumental in reaching settlement of $9 million dispute with numerous opposing parties.
Successful restructures of the nation's first and largest consolidator of the 5,000+ shopping mall concept in the antique mall industry, based in Austin with four locations in North Texas and 22 locations nation-wide.
Representation of commercial property landlord of sizeable extrusion plant; negotiation of assumption of lease issues, cure issues and related fixture issues in relation to debtor's DIP lender and certain subordination issues involving landlord's lien.
Representation of mortgage company and its officers and directors in complex litigation involving multiple parties and claims regarding $1 million mortgage loan warehouse facility and bank fraud allegations in bankruptcy proceedings of borrowers; successfully defended clients and prosecuted borrowers and related parties in critical and protracted state court litigation; further enhanced recovery to clients through out-of-court settlements with other implicated third parties.
Representation of lienholder on 14 parcels of real property in chapter 11 bankruptcy proceeding of property owner; successfully prevented owner's use of cash collateral; lifted automatic stay and foreclosed on all 14 properties within first 60 days of case.
Transactional
Curtis | Law PC transactional attorneys are experienced in issues concerning corporate and securities law, corporate governance, corporate finance, mergers and acquisitions, government relations, real estate, restructuring and insolvency, private equity investments, federal and state taxation, executive compensation arrangements, employee benefits, and wealth planning.
We are skilled in offering legal and business solutions. Our attorneys have significant outside business experience. Our lawyers regularly negotiate with regulatory agencies, including the Texas Workforce Commission, the Federal Trade Commissions, the Small Business Administration, the Internal Revenue Service, the Department of Labor, and various other government agencies.