Curtis | Law PC - Finance Practice
Financial Services
Curtis | Law PC represents financial institutions including commercial, merchant, and investment banks, insurance companies, and trust companies as well as borrowers, lessees, and other capital users, in a broad range of commercial financing transactions. Our structured finance lawyers represent both capital providers and capital users in connection with securitizations, financial products, and other complex structured finance transactions. Our experience in representing both financial institutions and corporate capital users, along with our sensitivity to the issues and goals important to each, allows us to represent clients in a more responsive, efficient, and cost-effective manner in all transaction types.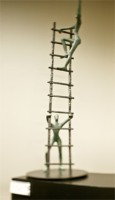 Ladder of Success
Artist: Tolla
Cast Bronze
Investment Fraud
Curtis | Law PC attorneys are experienced in coordinating and directing accountants, other financial professionals, and electronic evidence experts in the forensic examination of a defendant's books and records to uncover fraud and to answer the ultimate question: "What happened to the money?". The analysis naturally begins with the defendant's general ledger and bank statements and extends and expands until all meaningful questions are answered and recovery is obtained.
Lending
Curtis | Law PC attorneys handle all types of lending and other finance transactions. The Firm's real estate lending transactions have included multi-state financings and leasebacks and have involved such asset types as apartments, office buildings, industrial warehouses, residential and non-residential development, regional and strip shopping centers, marina storage facilities, and large printing and design firms. The energy lending practice includes natural resource-backed lending as well as related project financing, such as concession and support for implementation agreements, engineering and construction agreements, fuel supply, transportation and pipeline financing, and service and operating agreements.
Securities
The practice offers expertise in litigation and counseling involving the duties of officers and directors of public and private companies, accounting and auditing issues, audit committee/special committee independent investigations, securities and fiduciary duty actions, compliance with SEC and other governmental regulations, disclosure responsibilities, internal investigations, SEC investigations/proceedings/receiverships, and shareholder derivative actions.